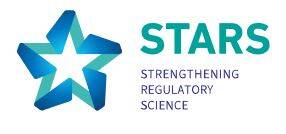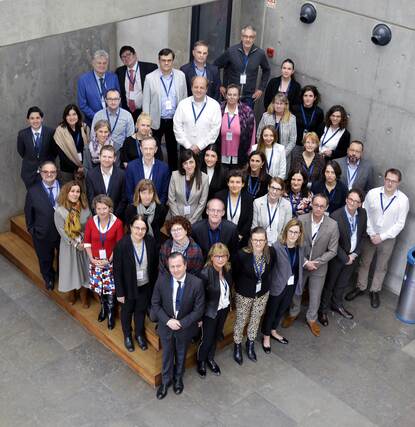 First European STARS Stakeholder Workshop
The upcoming first European Stakeholder Workshop of STARS will be held on November 3rd and 4th, 2020, entitled: 'Towards an Improved Strategy for Regulatory Support for Academia'.
STARS stands for Strengthening Training of Academia in Regulatory Science. The STARS consortium consists of the majority of the national competent (health) authorities (NCAs) in Europe and the European Medicines Agency. This coordination and support action is funded by the European Commission (Horizon 2020) and the main objectives are to strengthen regulatory knowledge in academia by reaching clinical scientists during professional training and qualification, as well as by improving the dialogue of academic drug developers with regulatory authorities. This is expected to increase the returns of basic research and accelerate drug discoveries for the benefit of patients and health care in general.
Previously, we informed you about the STARS meeting in Lisbon. Here, we give an update on the 1st European Stakeholder Workshop, which is a crucial element of the STARS project for a dialogue between the research community and important stakeholders to analyse and optimize successful implementation of academic driven health research into the health systems. The workshop aims to raise awareness for regulatory needs across all important stakeholders, such as academic researchers, representatives of national health care systems and health ministries, patient representatives, pharmaceutical industry, leading academic societies and national and European funding agencies, as well as the STARS partners. Also, it aims to encourage the development and agreement on feasible support and tools at national and European levels.
To prepare and streamline the workshop discussions, STARS has identified four lead topics that focus on 1) regulatory requirements, 2) communication of stakeholders, 3) regulatory support for academia and 4) funding requirements. Key findings from three STARS Surveys that were performed among academic researchers, funding bodies and NCA's will be the starting point of the discussion. The information and recommendations compiled by the workshop community is expected to complement the data yielded from the above-mentioned STARS surveys and will be crucial for drafting of a Common Strategy by the STARS consortium to sustainably implement and further develop the results and recommendations of STARS after completion of the project.
For more information, see the STARS-website.
UNICOM - accelerating the international identification of medicinal products
Even in today's high-tech world and despite a highly regulated environment for medicines, the international identification of medicinal products is a challenge. When the same name may identify a different medicinal product with a different active substance from one country to another, this complicates for example international pharmacovigilance activities, cross-border use of medicines and monitoring of the global supply chain.
The UNICOM project aims to improve the international identification of medicinal products, which is relevant for regulatory processes, as well as for clinical care. The project is funded under the European Horizon 2020 research and innovation programme1 and will run for four years (December 2019-November 2023).The UNICOM project is related to the implementation of the ISO IDMP (Identification of Medicinal and pharmaceutical Products) suite of standards. This set of ISO standards is relevant for the computerization of information on medicinal products all around the world. It provides structured medicinal, pharmaceutical product and substance data models, as well as mechanisms to uniquely identify medicinal products and their components. The IDMP standards are currently only applicable to human medicinal products and were first published in 2012. Initial implementation activities have shown that this can be challenging and demanding. Implementation impacts key regulatory domains such as the electronic submission of marketing authorization applications by pharmaceutical companies as well as pharmacovigilance. Also the clinical domain is impacted, as IDMP is relevant for national medicinal products databases and clinical decision support systems which are used for e-Prescription - including cross-border – services and in documenting medication in patient records.

Implementing ISO IDMP is going to last several years. UNICOM now brings together the EU medicines regulators and the clinical domain with the aim to accelerate the uptake of the standards in all relevant domains.
UNICOM has 13 work packages, 9 core work packages (MEB is involved in 3) and 3 work packages related to governance and project management. Most importantly, MEB is leading on Work Package 2 (WP2) where an EU Substance Reference System (EU-SRS) will be established. As substance information is fundamental, EU-SRS will provide consistent, scientifically sound descriptions of substances used in medicinal products by applying regulatory standards for the identification of medicinal substances in accordance with the ISO IDMP standards. The EU-SRS system uses Global Substance Registration System (GSRS) software made available by the US National Center for Advancing Translational Sciences (NCATS) and which is also in use by the FDA. During the EU-SRS implementation project, the EU-SRS  system will be installed and validated, and substance data will be built and loaded into the system. Furthermore, one of the objectives of the project is to cleanse the in Europe existing substance data. This is essential as substance names are not always unique and unambiguous with synonyms, including systematic, common, official names and substance codes being available. Further objectives of WP2 are to define the future processes for maintenance of substances data, and to generate training materials and guidance documentation on substance management. It is a joint effort by EMA, WHO, MEB and 8 other European national competent authorities (BfArM, NoMA, MPA, AEMPS, ANSES, SUKL, JAZMP, AGES), supported by FDA and NCATS.
For more information, visit the UNICOM website.
[1] The UNICOM project is funded under grant agreement No 875299. Official start of this innovation action was 1 December 2019. The project is expected to end on 30 November 2023.