Regulatory science provides the Medicines Evaluation Board (MEB) with up-to-date data, knowledge and expertise based on current scientific insights, for optimal evaluation and marketing authorisation of medicinal products and novel foods. This ensures an even better assessment of risks, efficacy and quality.
Research trajectories & programmes
On the MEB website you can find all the research trajectories and programmes the MEB supports.
The MEB's Regulatory Science definition:
Regulatory Science is the science of developing and validating new standards and tools to evaluate andd assess the benefit/risk of medicinal products, facilitating sound and transparent regulatory decision making. Through analysis of regulatory frameworks itself and its effectiveness, however, Regulatory Science can also advance knowledge of these systems in general.
Regulatory science opens the door to optimal evaluation
In the second quarter of 2018 the MEB has visited the RSNN Workshop and organised the MEB Day 2018:
Review of the MEB Day, 13th June 2018 ; Opportunities for innovation, challenges for regulations. Innovation and quick and careful registration. How do we make sure that regulations do not get too much in the way of innovation? The focus of the annual MEB Day 2018 was on opportunities for innovation and the challenges that implies. Extensive discussions were also held on pharmaceutical compounding as a solution for medicines that are too expensive. "The MEB is fully committed at all times to promoting confidence in medicines", asserted MEB chairman Ton de Boer. "That is why quality and safety are paramount in the interest of patients".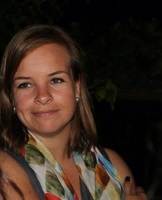 Student Highlights: Britt Duijndam
I am a PhD student at the division of Drug Discovery & Safety from the Leiden Academic Centre for Drug Research (LACDR, Leiden University) under supervision of Prof. Dr. Bob van de Water and Dr. Jan Willem van der Laan. This PhD position is combined with a position at the Pharmacology, Toxicology and Kinetics (FTK) group within the MEB.
Within my PhD project, we focus on nuclear hormone receptors (NHRs). NHRs act as transcription factors and regulate gene expression networks involved in various biological processes, such as cell growth, proliferation and homeostasis. Deregulation or (over)activation of these networks can result in adverse outcomes such as unanticipated cell proliferation ultimately culminating in tumor formation. This is observed for some non-genotoxic carcinogens that activate NHRs. NHR signaling is also involved in normal physiological responses, and not solely activated in adverse outcomes.
Therefore, it is essential to define quantitative relationships between different key events leading to a particular adverse outcome induced by non-physiological NHR activation. To obtain quantitative information on these key events, a technique is favored which can provide single cell information on all these events. We established fluorescent protein reporter cell lines of important players in the NHR signaling pathway. As a proof-of-concept we focus on estrogen receptor signaling. Using our fluorescent protein reporters, we can determine the following key events: receptor translocation/activation, downstream transcriptional activation and cell cycle progression, leading up to proliferation. In combination with advanced live cell imaging, these reporters can monitor the spatial and temporal dynamics of these key events at a single cell level.
This allows us to determine the quantitative relationships between the various different key events and the ultimate cellular adverse outcome. These in vitro reporters can be used to screen e.g. drug candidates or other chemicals of concern for the potential of modulating NHR activity and likely non-genotoxic mode of action.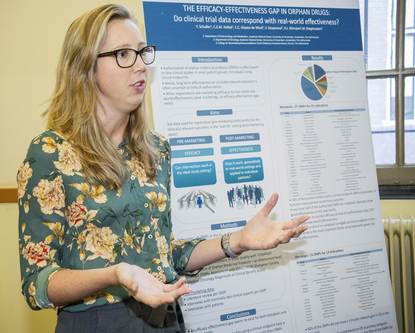 Theses highlights
Yvonne Schuller doctorated on 4 July 2018: . 'Mind the gap – Bridging the difference between efficacy and effectiveness of orphan drugs' Promotor: Prof. Dr. C.E.M. Hollak (AMC-UvA). Co promotores: Dr. M. Biegstraaten (AMC-UvA) and Dr. V.V. Stoyanova-Beninska (MEB).
Authorization of orphan drugs is often based on studies with several methodological shortcomings. Consequently, longer term effectiveness on clinically relevant outcome measures is often unclear at the time of authorization and some drugs that enter the market, may not be effective in the real-world.
The aim of this thesis was to study the presence of a so-called efficacy-effectiveness gap of orphan drugs. We confirmed that indeed a gap exists in the case of orphan drugs for metabolic diseases and oncology. The most important factor that contributed to this gap was the type of primary endpoint used in the pivotal study. Furthermore, we showed that dose-finding studies are not always conducted in the development program, while post-marketing evidence suggests that registered doses are not always considered as optimal.
Also, we elaborated on how an adaptive pathway approach could have benefitted the development of enzyme replacement therapy for Fabry disease in several ways.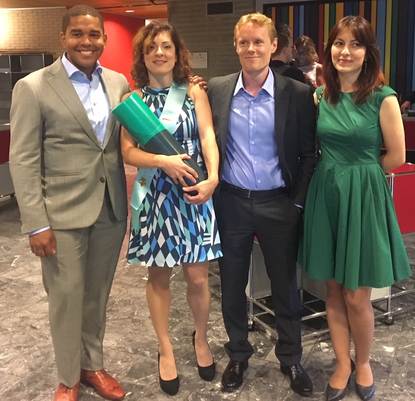 Alexandra C. Păcurariu doctorated 6 July 2018: 'The role of signal detection in Pharmacovigilance: The European landscape' at the Erasmus University. Promotor: Prof. Dr. M.C.J.M. Sturkenboom (Erasmus University). Copromotor: Dr. S.M.J.M. Straus (MEB).
Pharmacovigilance is the science and activities relating to the detection, assessment, understanding and prevention of adverse effects or any other possible drug-related problems. Signal detection is a core pharmacovigilance activity.
The motivation behind exploring signal detection and the evaluation process is the timely detection of safety issues, and ultimately a better protection of public health.
This thesis aimed to explore the processes of signal detection and evaluation and to inform regulatory decision making by providing evidence-based solutions to some of the existing questions. We investigated methods of detection and alternative data sources.
Furthermore, we were interested to find out which characteristics of drugs make them more prone to have safety issues discovered post-marketing and tried to find predictive characteristics and to gain some insight into the prioritisation process. The current work is relevant for all involved stakeholders, as European Medicines Agency (EMA), national regulatory authorities, pharmaceutical industry and, healthcare professionals and researchers.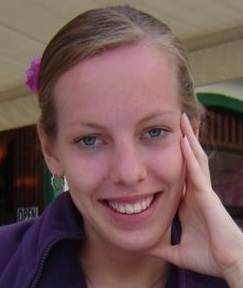 Charlotte de Wolf, thesis defence on 11 October 2018 (Utrecht): Regulating the regulators - monitoring immune mechanisms in targeted therapies.
In collaboration with Utrecht University (Faculty of Veterinary Medicine). Promotores: prof. Dr. W. van Eden and prof. Dr. F. Broere (both UU); co-promotor: Dr. M. Hoefnagel (MEB). Immune cells and cells modulating the immune response are powerful tools and targets to prevent or interfere with infectious diseases as well as transplantation-related and auto-immune disorders, allergy and cancer.
Clinical application of immunomodulatory therapies, however, requires extensive control to guarantee efficacy and safety. Therefore, we have evaluated induction and monitoring of in vitro and in vivo immunomodulatory properties of cell-based and non-cell-based medicinal products. In addition, we have provided guidance related to the development of assays controlling these properties. In this project, the focus has been on (regulatory) T cells, dendritic cells and mesenchymal stromal cells.
Publication highlights