"Opioid addiction is a complex problem but, despite that, we still need them very badly"
Opioids are currently in the spotlight. Dutch Minister Bruins for Medical Care wrote to parliament twice this year on the subject of these powerful painkillers. The reason: experiences in the US, where opioid addiction has now become a huge social problem, also called the  'opioid crisis'. American life expectancy declined, with high mortality rates largely fueled by prescription-opioid overdoses. Although opioids are not causing such a widespread social disruption in the Netherlands, people are definitely concerned because the number of prescriptions of opioids has increased significantly in recent years and the number of reports of overdoses and addiction is also on the rise.
There is not much information available on why so many more opioids are being prescribed these days, nor about the background of opioid-related problems in The Netherlands. This is the view of professor in Pharmaceutical Patient Care and MEB member, Marcel Bouvy, and MEB Senior Clinical Assessor, Liesbeth Rook. "It is time for more awareness regarding the risk of opioids. But it mustn't turn into an opioid witch-hunt. Because we still need them very badly."
Marcel Bouvy is lead researcher for the Project Preventing and Tackling the Opioid Epidemic (TAPTOE). This project is being financed via the national science agenda of the Dutch Research Council NWO (Nederlandse Organisatie voor Wetenschappelijk Onderzoek) and studies both the background of the increased use of opioids and potential intervention to curve the current rise in opioid consumption. Liesbeth Rook is a member of the MEB opioids core group which is working on information relating to the safety and efficacy of opioids, and on promoting their proper use. Both Marcel Bouvy and Liesbeth Rook are connected with the national Proper Use of Opioids Task Group, to which the MEB regularly contributes. The task group is coordinated by the Dutch Institute for Rational Use of Medicine (IVM, Instituut Verantwoord Medicijngebruik), and the work is being commissioned by the Ministry of Health, Welfare and Sport (VWS). Marcel and Liesbeth are positive about the attention that Minister Bruins is requesting for opioid addiction. "We have to take a really good look at the causes", Marcel explains. "Opioids are extremely effective if used for a short period, but when you start using them for longer, you soon find yourself needing more and more. Once you are used to them, it is very difficult to stop taking them."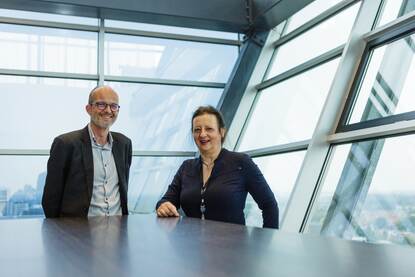 No witch-hunt
According to Marcel, opioid addiction is a complex problem. "First of all it was claimed for years that not enough opioids were prescribed and that patients were unnecessarily suffering excessive pain. This led to an increase in the prescription of opioids, and we may have gone too far the other way. The use of opioids now seems to have been stabilising since 2018, but that's not necessarily good news. It may be the case that people who really need opioids are now not getting any at all. The decrease in usage will, in fact, not be down to the people who are already addicted. After all, stopping is far from easy. It's therefore very important to focus on information for patients and doctors. Anyone who has an operation will experience a lot of pain afterwards and then there is no harm in prescribing opioids for a couple of days. And you will not become addicted if you are in the final stages of cancer treatment and are in need of proper pain management. We are now seeing patients refuse morphine because they think it's dangerous. That's something we don't want either. This must not become a witch-hunt."
Liesbeth agrees. "Opioids are important and essential products, particular in palliative care. Clear restrictions on the duration of use of sleeping tablets and sedatives have been included in the package leaflets because of their risk of addiction and habituation. The same is not possible for opioids. Although it's really annoying if someone is anxious or sleeping badly, the sense of urgency is different. You cannot leave someone simply to suffer serious pain. That is why we need opioids so badly. Paracetamol alone is insufficient for someone suffering from serious pain. Although NSAIDs, for instance anti-inflammatory painkillers, are effective in high dosages when it comes to tackling serious pain, they cannot be safely used for all - often elderly - patients due to the risk of cardiovascular disease."
Social problem
Marcel and Liesbeth are trying to unravel the underlying problems associated with opioid addiction. They want to find out what is going well, what is going wrong and why. Why are opioids still being prescribed? And how do you get people off them? Liesbeth continues, "There are few alternatives. However, the added value of opioids is limited when used for longer periods after surgery or in case of chronic conditions like low-back pain." As Marcel clarifies, "Trials have shown that opioids do not work that well at all in the case of chronic pain that affects the locomotor apparatus. In such situations they scarcely work better than a placebo or paracetamol. It is precisely for that kind of pain that opioids are currently being prescribed on such a wide scale." Liesbeth adds, "This has to do with tolerance. Your brain adapts to what you are given. So opioids have less and less of an effect. However, in the meantime some adverse reactions continue, such as constipation, and withdrawal symptoms if you stop."
One of the problems for which opioids are often used over a long period is chronic lower back pain. As Marcel clarifies, "I don't know whether you should prescribe it in such situations at all actually. If you would prescribe it, it should only be for a couple of days to relieve the worst pain and after that the patient must be mobilised as quickly as possible, for example via a referral to a physiotherapist. Something else that makes it difficult is that, if people are not motivated to go and see a physiotherapist, doctors will be inclined just to prescribe painkillers. However, by doing so they are only helping their patients out of the frying pan and into the fire."
Marcel believes it is partly a social problem as well. "I recently spoke to a man who had a painful shoulder and thought that the doctor should prescribe him an opioid because, although his 19 physio appointments had helped, they were not going to be further reimbursed by his health insurance. A lot of opiates are also used by elderly people who often don't get enough exercise, have arthrosis and are less motivated to participate in remedial therapy. An opioid will give them short-term relief from the pain, but they make them drowsy, give them constipation and they will run a greater risk of suffering a fall."
Liesbeth thinks there is another problem as well. "Rapid and high dosage fentanyl sprays are often prescribed off-label for non-cancer pain, including back pain, despite the fact that they should only be prescribed to cancer patients with acute pain in certain circumstances. Serious cases of overdosing have been reported with this kind of products in patients not suffering from cancer-related pain."
Broad approach
The MEB's job is to take decisions about the registration of medicinal products and, when doing so, weigh up the benefits and risks for a large population. The MEB opioids core group provides know-how to the Opioids Task Group about the patient information leaflet, summary of product characteristics (SmPC) and the packaging. The Task Group then uses this know-how to provide information to patients and doctors. Liesbeth continues, "This is an issue you have to tackle on a broad basis. Moreover, these medicinal products are not only registered in the Netherlands, but also in other European countries and the European Medicines Agency (EMA) has launched initiatives to study the problem of opioids. In Europe we can learn from each other about which approach works and our aim is to harmonise product information in Europe. It may well be necessary to have additional research carried out by marketing authorisation holders, particularly with regard to reduction schedules and which patient groups are more sensitive to addiction."
Marcel's project has not started yet either. "We're currently looking to establish contacts with initiatives that are already taking place. We mustn't work in isolation, but instead on the basis of close cooperation. That's why we're in contact with the MEB, Nivel and the IVM task group. IVM is already developing materials for doctors and pharmacists. We have, for example, plans for interventions via the pharmacotherapy quality circles of pharmacists and GPs. On top of this we want to make better agreements about prescribing, supply and repeat prescriptions. If it turns out that the IVM has already developed materials for this, we won't start developing new ones."
Cooperation
According to Liesbeth and Marcel, cooperation between the various stakeholders is extremely important. Liesbeth continues, "It's a good thing that experts and patients from the field and academia are providing input. The MEB is also looking to make similar connections, for example via the board members. After all, they also work as doctors or pharmacists in the field." Marcel himself works at a pharmacy one day a week. "That enables you to pick up ideas, for education and research. It also means I will know what Liesbeth is talking about if she proposes ideas in the near future about how we should proceed. Within the framework of the TAPTOE project we will also cooperate with patient associations to find out what the general public thinks about pain, pain relief and the risk of addiction. However, we've also already contacted the association of former addicts and they have also provided their own input." 
In order to gain a better insight into the black market, the TAPTOE consortium is also cooperating with the Trimbos Institute (Netherlands Institute of Mental Health and Addiction). As Marcel clarifies, "Although we realise there's a black market in the Netherlands, we don't know for sure whether it exists in isolation. There are, for example, stories of addicts chewing on fentanyl patches or grinding oxycodone tablets so that they can abuse them. That type of medication may have been obtained from medical sources. The question is which sources? Are patients selling it? Are they being stolen, or are manufacturers selling them on the side? Are they counterfeits and, if so, what do they contain? We don't know and that's a real risk."
The new knowledge about opioids is also having consequences for the guidelines for prescribers. The MEB provides product specific information about safety and effectiveness, based on non-clinical and clinical studies, and post-marketing safety databases. Liesbeth continues, "The guidelines on how pain should be treated in clinical practice are a matter for the NHG, the Dutch College of General Practitioners and the medical specialists. Doctors get to see all kinds of different patients and situations which you cannot all include in an SmPC. We're also very pleased that the guidelines are updated regarding the appropriate use of opioids, and that the MEB is consulted on this as well. Furthermore, the 'Farmacotherapeutisch Kompas', or National Pharmacotherapy Guideline, is an important source of information when it comes to prescriptions, that is based on the SmPC."
Rapid results
Action has already been taken. The Task Group and the Dutch Foundation for Pharmaceutical Statistics (Stichting Farmaceutische Kengetallen, SFK) has already created searches for pharmacists so that they can quickly find patients who are using large quantities of opioids. The NHG has amended the guideline for doctors and the Opiaten.nl website has also been launched. However, more needs to be done in the opinion of Liesbeth and Marcel. "Imagine, for example, that the SmPC includes information on certain patients you have to monitor. You then have to make sure that physicians receive pop-up warnings when they prescribe opioids, asking them, 'Are you sure? This patient is also using medicinal product X or has illness A and is at a greater risk of becoming dependent'," Marcel explains. "In order to prevent that patients become chronic users, we want to implement indicators for escalating use of opioids. In addition, we are also interested in explaining to people who are already addicted how they can best taper opioids." Moreover, Marcel believes that the materials should also be tested so that they can be properly implemented.
He wants to move things along quickly and expects the initial results to be available in 2020. In the short term he wants to carry out an assessment involving doctors and pharmacists to identify the problems they are running into and he would also like to interview patients with chronic pain, as well as chronic users. Other researchers in the consortium from Leidenand Nijmegen will carry out epidemiological research into predictors using existing data. "So we're not going to sit around waiting for years, but are going to be in constant consultation about how we can translate the results into practical situations, so that we can start using them." Liesbeth also expects to be able to apply this to the patient information leaflets and SmPC.
Figures on the use of opioids in the Netherlands
In 2013 the number of people who died as a consequence of an overdose of opioids was 139. In 2017, 211 people died due to an overdose. That is an increase of approximately 50 percent. In the same period the number of hospital admissions rose from 1,537 to 2,236, according to research carried out by the research carried out by the Leiden University Medical Center (LUMC), dating from last August.
The public attention regarding the negative consequences of opioid prescription may already have taken an effect. The use of strong opioids in the first six months of 2019 has declined compared to the same period in 2018. Depending on the painkiller in question, the number of users dropped from 4.5 to 6.8 percent, according to provisional figures from the Dutch Foundation for Pharmaceutical Statistics (SFK).
In 2015, general practitioners prescribed six times as many powerful painkillers (opioids) than during the 10 years before. That was shown by research commissioned by the MEB, which was carried out by the NIVEL research institute. General practitioners are increasingly prescribing opioids for non-cancer pain, in particular for back, neck and shoulder pain. Opioids are also more frequently prescribed for patients aged 75 and older.