The academic world plays a key role in drug discovery and development. However, bringing drugs to market is a challenging and demanding journey for academic researchers. This year's edition of the MEB Science Day focused on breaking down the barriers and how to help move academic drug development forward.
MEB Science Day on YouTube
Interested in this year's MEB Science Day? A video of the live event is available on the MEB's YouTube-channel.
Just like in 2021, this year's edition took place as an online event, due to COVID-19 restrictions. The entire programme was broadcasted live from a studio setting in Utrecht. "It's a pity that we still couldn't meet attendees and speakers in person", says Dr. Marjon Pasmooij, Science programme manager at the MEB. "On the bright side however, holding an online event meant that more attendees could participate, from all over Europe and even outside of Europe. And once again we saw an increase in the number of attendees, with over 500 registered participants."
Challenges in development
The popularity of the event clearly illustrated the relevance of the day's theme. "The academic world plays a key role in drug discovery and development. Many innovative medicines have their roots in academia", Marjon explained. "Nevertheless, we see challenges. Many drugs don't make it to the market. It seems too challenging and demanding to fulfil regulatory requirements or to navigate the regulatory system."
With a variety of speakers, the MEB Science Day presented a broad perspective on opportunities that can help academic developers to take the next steps. Some of those opportunities are offered directly by the regulators, EMA or MEB. During her presentation, Marjon explained the possibilities to acquire scientific advice. "There are all sorts of opportunities. Scientific advice on a national level, for instance via the MEB, can be a great first point of contact. In face-to-face meetings we can offer 'tailor-made' advice. If you want to bring your findings to the patients, it's important to take regulatory guidance into account, even early on in the process. Think about what you publish, about patents and about reproducibility of studies. It will all help to increase the chance of success."
Education - STARS
Lack of knowledge of regulatory requirements and of the skills to navigate the regulatory system can be a large barrier. Education on the matter can play a role in getting past that barrier. Therefore, the MEB participates in the EU funded Coordination and Support Action on Strengthening Training of Academia in Regulatory Science (CSA STARS).
Dr. Viktoriia Starokozhko is a clinical assessor at the MEB and project member at STARS since the project started in 2019. "Unfortunately, no academic drugs have yet reached marketing authorisation so far. We see a gap between the developmental and clinical practices phases. The so called 'valley of death'", Viktoriia explained. "That gap has several reasons, leading from the science itself to financial hurdles. But the regulatory aspect also contributes to this gap. That is where STARS steps in."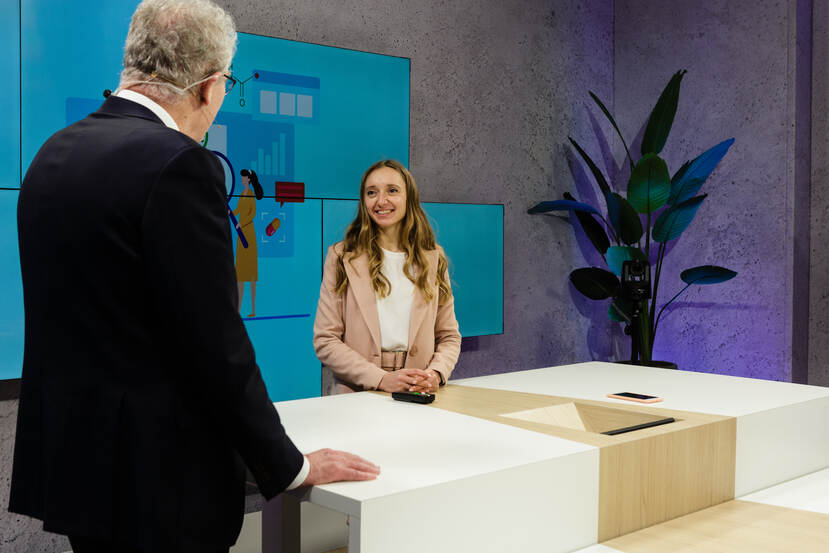 Bridging the knowledge gap
"STARS intends to bridge the regulatory knowledge gap. There are a lot of opportunities, like Marjon just explained and also a lot of regulatory support tools, but a lot of researchers simply aren't aware of their existence. During surveys we found that a lack of good communication and the complexity of processes also contribute, besides a lack of regulatory knowledge."
In several ways STARS intends to address those issues. Viktoriia: "We maintain a comprehensive inventory, providing an overview of support services for regulatory activities. There are also workshops, whitepapers and several pilot activities to help improve knowledge and communication."
To provide that knowledge, STARS also proposed a curriculum for both pharmacy students and post graduates in healthcare, on several regulatory aspects. "Our primary goal is to turn the valley of death into a valley of success", Viktoriia concluded in her presentation.
Views from the academic field
Prof. Teun van Gelder (Leiden University Medical Center) and Prof. Carla Hollak (Amsterdam University Medical Center) shared their views from the academic perspective. They both notice difficulties as well as opportunities for academic drug development. "It's especially in the field of rare diseases and orphan drugs where academic pharma can make a difference", says Carla. "More and more drugs for narrow indications are evolving, and it's a fact that these orphan indications start in academic environments quite often. So paving a successful road to patient access for these drugs is very important."
"The attrition rate in academic drug research is quite high", says Teun. "But if we work together on a national level, we can get past that valley of death." There are chances, Teun thinks like Carla. "Take ATMP's for instance, 40% of initiated clinical studies in that area are initiated by academia. That's a promising start."
This edition of Regulatory Science Magazine also features an interview with Teun van Gelder and Carla Hollak.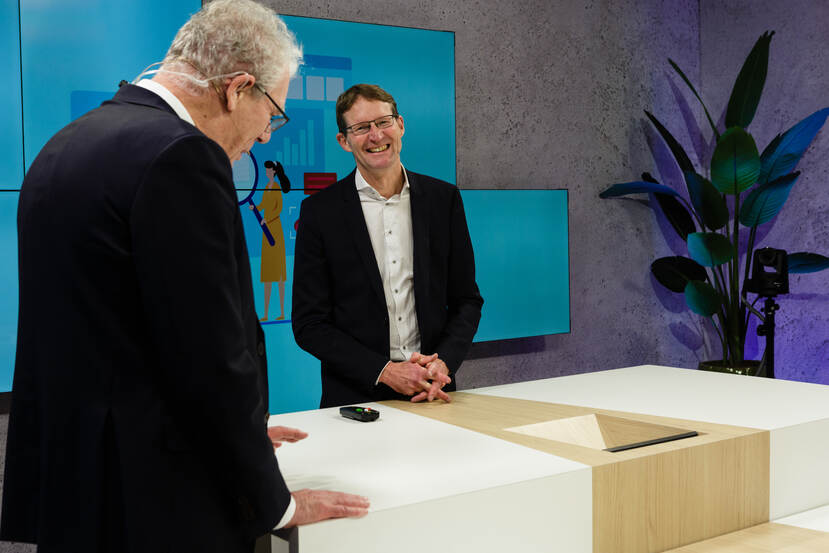 A more integrated approach
Clémence Ross-van Dorp is ambassador Life Sciences & Health Sector for the Dutch ministry of Economic Affairs. In a short video pitch during the Science Day, she explained the need for a more integrated approach to the life science and health sector in the Netherlands, by connecting national activities to European and international patients' needs.
Panel discussion – critical success factors
In the afternoon MEB chair Ton de Boer led a lively panel discussion, which was combined with short pitches. One of the pitches was given by former MEB chairman Bert Leufkens. "Regulatory systems are never perfect. They evolve over time. Regulatory science is there to improve the regulatory standards and procedures, but also to understand how things work and can be improved", Bert said. "Therefore we need to be closer to academic research, to help them towards their next step."
Also at the discussion table were Emeritus Prof. Jaap Verweij and Dr. Saco de Visser, the intended  director of FAST (Future Affordable Sustainable Therapies). Verweij has chaired the Committee on Development of New Medicines, whose members drafted the recently published report 'Efficiency gains through innovation in medicines development: How can science contribute, and how can stakeholders be aligned?'. In this report (published by the Dutch Royal Academy of Sciences) the Committee pleads for a less fragmented landscape in the Netherlands in the area of medicines development. A national expertise centre could contribute to that in a positive way.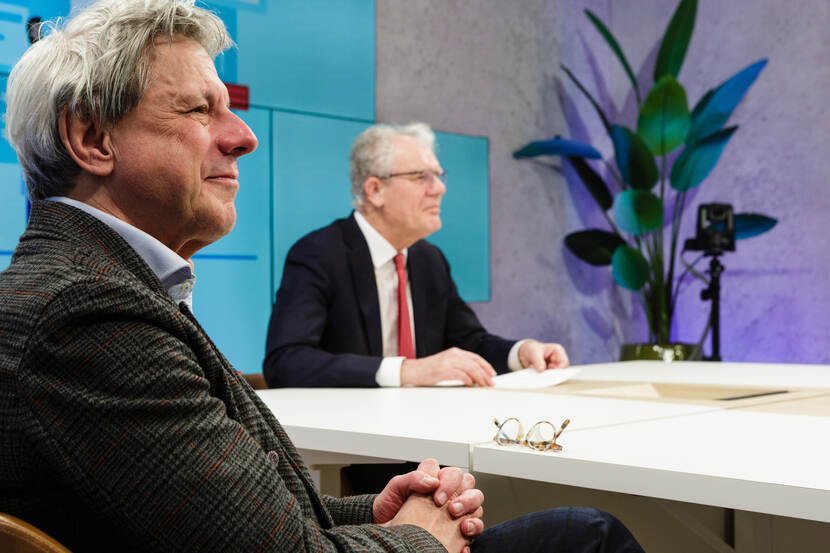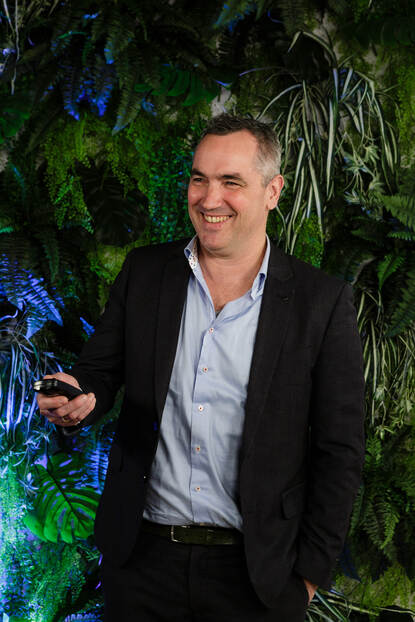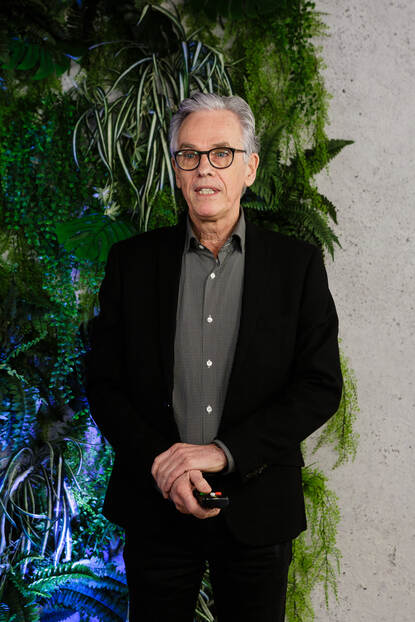 Delivering drugs to patients
FAST might be an answer to that. Intended Director Saco de Visser explained that FAST tries to establish an umbrella organization around several initiatives, including coordination of public funding and bringing knowledge and expertise together. "Tomorrow's therapies might not necessarily fit in today's paradigms", he stated. "Coordinated public funding can help overcome challenges. FAST intends to stimulate innovative entrepreneurship. Regardless of who is doing it, as long as it's about delivering drugs to patients."
Prof. Peter Mol is a professor of Drug Regulatory Science at the University Medical Center Groningen and also works as a senior clinical assessor at the MEB. He is also vice chair of the EMA's Scientific Advice Working Party. In his wrap up of this year's Science Day, Peter commented on responses by attendees, which were compiled into word clouds.
"Short timelines, knowledge gaps and the lacking of a common language between academia and regulators: these are just a few of the difficulties academic researchers face when attempting to bring innovative drugs to the patients", Peter summarized. "This day has provided an overview of opportunities that can help academia forward. Scientific advice from EMA, MEB or other competent authorities can be very helpful, I would encourage developers to make use of these opportunities."
And the opposite is also true, Peter continues. "It's important for regulators to know what is going on in the academic world and to keep the dialogue open with developers and researchers. Communication is so very important. We, as regulators, need to clarify our jargon, and say what we really mean. We need more awareness on this language gap. Training, active dialogue and opening up to academic researchers are the key elements!"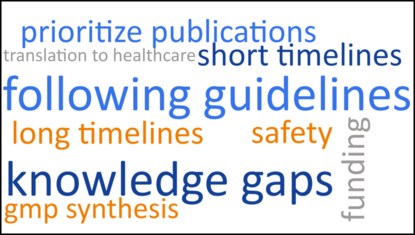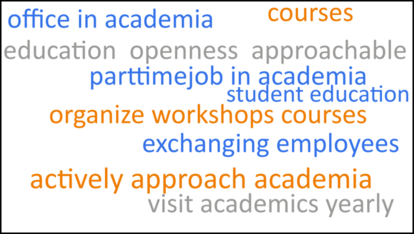 PhD Presentations
An MEB Science Day isn't complete without PhD students presenting their recent work. As in other years, several of our students held 'poster pitches' during the day. Peter: "A diverse group of researchers. Their future looks bright, presenting interesting studies, giving us insights in how and where we can improve regulatory processes and our understanding of drug effects."
Britt Duijndam is one of the PhD students that held her pitch during the Science Day. Her presentation can be seen here. The presentations of our speakers are also available in this magazine.